Visit Europtical to get the best fashion eyewear, eyes examined, advice on ocular nutrition and a cup of coffee. At Europtical, you won't find your average pair of eyeglasses. Besides, no one said you were average. There are a variety of preventative actions you can take to safeguard your sight. At Europtical, we stay on top of all the latest medical developments in lifestyle management and eye health. To receive personalized, expert guidance, Schedule a Consultation with our eye doctor in Rocky River, OH.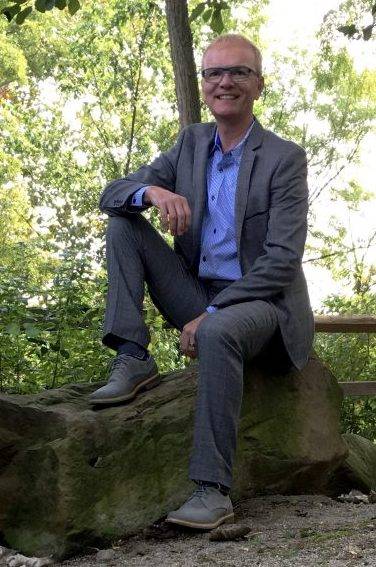 Dr. Mark Davis attended Ohio State University where he received his Doctor of Optometry degree. He holds a Certificate of Residency, Hospital Based Optometry and is a Masters of Science Candidate in Functional Medicine. Dr. Davis also is a Health Practitioner Diplomate American Academy of Anti Aging, Board Certified American Optometric Association and The American Board of Certification in Medical Optometry (ABCMO). He is the recipient of the Contact Lens Clinical Excellence...
Yes, it's true that many common eye diseases are linked to getting older. No, they are not always inevitable. Many lifestyle changes – good nutrition, wearing sunglasses, exercise, no smoking – can help prevent the onset of certain conditions, such as cataracts, glaucoma and age-related macular degeneration (AMD) that threaten your vision.
What Our Patients Are Saying...
An eye doc and more! Beyond routine eye exams, Doctor Mark shares cutting-edge nutritional info to support eye health as well as the whole person. His business partner is well – versed in the latest eyewear trends and offers expert guidance regarding what styles will suit one the best. In addition, his team is always so pleasant, and…if you could use a lift, they will make you a great cup of Joe!...
After a recent tour of a number of optical boutiques in the Greater Cleveland area, I am pleased to say Europtical comes out on top by far. The entirety of the staff is incredibly pleasant and friendly, and devoted to helping find the right style for you (not just simply what's trendy or best selling) with honest opinions to boot (while still being kind, of course). The space is comfortable and very well lit with modern finishes, and everything is...
Everyone is so nice and helpful. Dr. Davis is very knowledgeable and excellent and very personable. Florin helps with our frames and lenses. He is excellent and gives you great tips on how to pick the best frame for your face. Letitia and Simona are so sweet and very welcoming to everyone. Everyone makes our visit a great experience and makes us feel like family instead of a customer. And they have the most amazing selection of frames to select...
Do you know your antioxidant score? Dr. Mark Davis, your leading eye doctor in Rocky River, OH, will perform specialized testing to pinpoint your levels of antioxidants. This number is fundamental to designing a nutrition plan to maximize your lasting health.

Dry eye syndrome (DES) can cause minor irritation as well as the inability to wear contact lenses and an increased risk of corneal infections. Our Doctor is an expert on Dry Eye, and has extensive training in integrative health and can help advise lifestyle changes.
Age-related macular degeneration is a complicated genetic disorder. In recent years, genetic tests for AMD became widely available for eye doctors to perform, and Dr. Mark Davis, our Rocky River, OH, eye doctor, is pleased to offer this progressive testing.
Let Your Eyewear Be Your Signature
Europtical has a hand-picked selection of stylish frames that will set you apart. Today's selection of frames are not the one's your mother used to wear.

If you experience loss of vision, double vision, swelling, infection or any eye emergency, contact us immediately for guidance. We'll help you with the best treatment to prevent complications and promote long-lasting clear eyesight.
Please call our office at: 440-252-4400 for further instructions. Use your best judgment on urgency, if you feel your need to find the nearest emergency room. Visit our eye emergencies page for more information.